Do you know you can legally install and use Windows 10 without a product key? If no, you can consider this post the good news for you.
I have been switching between Windows and Linux (mainly Ubuntu and Linux Mint) in the past years until the official release of Ubuntu 18.04 LTS when I finally decided to go all out with Ubuntu and wiped Windows from my laptop. And I am happy and satisfied with Ubuntu most of time, but occasionally I have to use a Windows computer for programs because there are either no Linux version of those programs or no alternatives to them in Linux. So I decided to install Windows 10 in VirtualBox and then install those Windows-only programs in Windows 10 to solve my problem.
If you have ever installed Windows before, you already know that you need a product key to install and activate Windows, either a digital key or a physical product key. A digital key is tied with your computer hardware, such as the motherboard, and you will not need to enter the key during the installation, and it will automatically activate your Windows. A physical key, however, is a long alphanumeric string that is printed on the Windows installation CD or was emailed to you if your Windows is a download version. If you upgraded your computer to Windows 10 by taking advantage of Microsoft's free upgrade offer, then you have a digital product key tied with your system and you will not be asked to enter the product key even when you reinstall Windows 10. I have a Windows digital product key, but unfortunately it does not work in VirtualBox because the digital key is tied with my physical hardware and it cannot recognize the virtual hardware. I don't plan to purchase a new copy of Windows 10, so I did some research to see if it is possible to install Windows 10 without product key and the result is positive. Now, let me show you how to do it.
But first of all, let me clarify that I am not talking about installing a pirated copy of Windows 10, but a legal copy of official Windows 10 downloaded directly from Microsoft website.
Secondly, this approach not only works in virtual machine, but also works for installing Windows 10 on a physical computer.
Things you need:
An USB 3 flash drive with minimum 8GB storage. You can use an USB 2 flash drive, but USB 3 is much faster than USB 2 so your installation will be much shorter.
A copy of Windows 10 ISO file. You can download it by following my previous post here.
A free tool called UNetbootin which can make a bootable USB flash drive from an OS ISO file.
Steps:
It is very simple. After you download the Windows 10 ISO file, launch UNetbootin, and choose "Diskimage" and locate the Windows 10 ISO file. Make sure you choose the correct USB drive, then click OK to continue.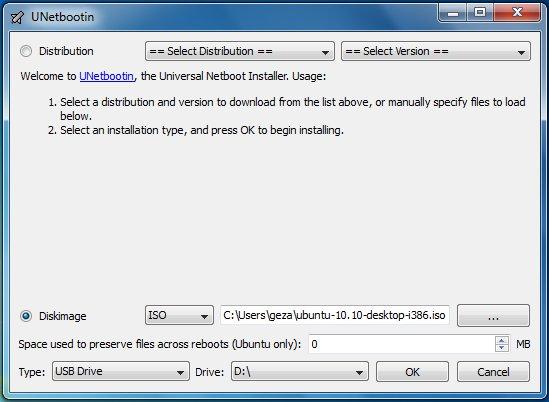 Once the process is finished, you can use your bootable flash drive to boot the computer and start the Windows 10 installation process.
During the installation when you are asked to enter the product key, simply click "I don't have a product key" and click Next to finish the Windows installation, and you are done!
You may ask, will Windows keep asking me to activate, like Windows 7 and XP? No, not for Windows 10. Then what is the catch? The differences between an activated and an unactivated Windows 10 are only cosmetic, not functional. Here are two examples.
1. Windows Activation Reminder in Settings
This reminder in the footnote is not intrusive at all and I can live with it, and I believe many of you can stand it as well.
2. No Background Personalization Allowed
Well, since I mainly use Ubuntu, I can live with the default Windows background. I don't think many people would bother to change their Windows background anyway. Besides, if you really want to change the background picture, just find a good picture and right click it and choose "Set it as desktop background".
So here you have it. You have a legal copy of Windows 10 running on your computer for free. Let me know what you think in the comments.